MODEL, FASHION ICON, WAR PHOTOGRAPHER, COMPANION AND INSPIRER OF MAN RAY AND PROTAGONIST, TOGETHER WITH HIM, OF A NEW EXHIBITION IN VENICE
1927. Lee Miller. On the cover of Vogue US, she looks straight into the eyes of the viewer with her neck framed with pearls, lipstick and a proud look. We are in the roaring twenties and no one suspects that, years later, Miller would have told the horrors of the world war on the same pages. Icon of style after meeting Condé Montrose Nast in Manhattan at the age of nineteen, model, inspiration for Man Ray, Pablo Picasso and Jean Cocteau, witness of his time and the drama of the conflict.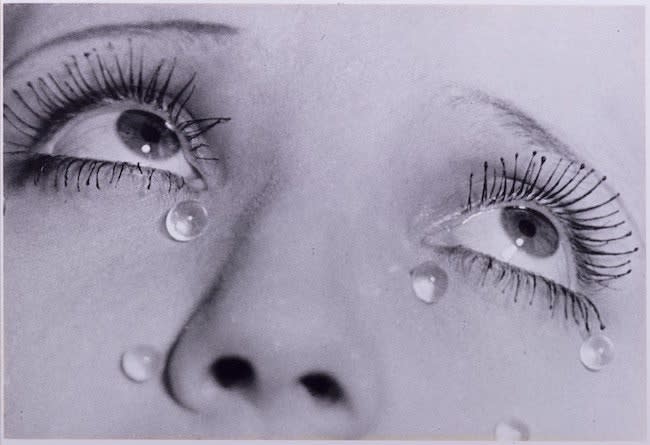 Man Ray - The Tears (Les deux yeux, le nez et les larmes) 1930 (1988)
Collezione privata, Courtesy Fondazione Marconi, Milano © Man Ray 2015 Trust / ADAGP - SIAE - 2022
While a biographical film dedicated to his multiple lives is in the works, starring Kate Winslet (Lee, Out in spring 2023), a new exhibition at Palazzo Franchetti in Venice, "Lee Miller - Man Ray. Fashion, Love, War" (November 5 to April 10, 2023) investigates Miller's private side and the creative collisions that have punctuated his life. Miller photographed and observing eye, model, author of war reportage and artistic symbiosis. Not a muse but a creative mind, it was she who discovered and made Man Ray's ear reach the secrets of the photographic technique of solarization that he adopted as a signature. Still Lee Miller caught by the lens of George Hoyningen-Huene that portrays her androgynous while wearing tracksuit and sneakers elegant as if it were surrounded by a cocktail dress. And still next to one of the giants of the target, Horst, while both of them look back at the horizon, photographed again by George Hoyningen-Huene.
The exhibition, curated by Victoria Noel-Johnson, brings together about 140 photographs by Lee Miller and Man Ray, some art objects as well as video contributions. A journey through the thousand faces of Miller, queen of glossy fashion services after meeting Condé Nast when she was only nineteen. And again the creative partnership with George Hoyningen-Huene in Paris. The main focus of the exhibition coincides with the years in which the steps of Lee Miller cross those with friends Max Ernst, Pablo Picasso, Salvador Dalí and Jean Cocteau who involved her in his surrealist film Le sang d'un poète (1930), in which she plays a contemporary goddess.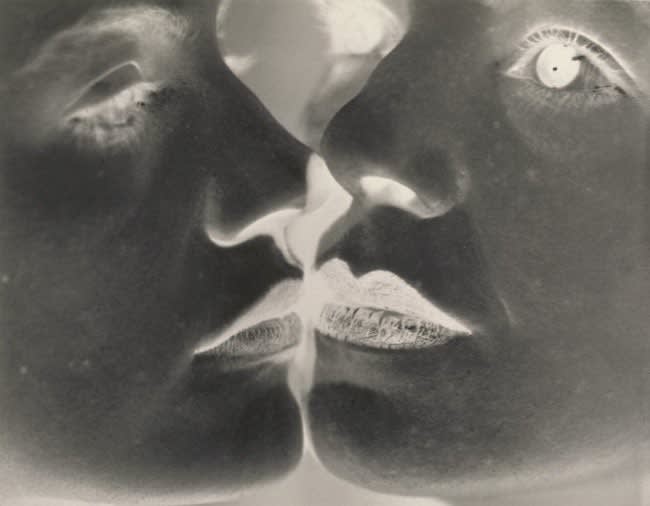 Man Ray - Le baiser (Lee Miller) 1930 (c.1980)
Collezione privata, Courtesy Fondazione Marconi, Milano © Man Ray 2015 Trust / ADAGP - SIAE - 2022
Looking at the images on display, the intellectual and creative exchange with Man Ray began in 1929, when Miller moved to Paris. To those who ask years later how she became a photographer, she answers: "The best way was to study at a teacher like Man Ray!". The exchange between the two that runs parallel to a burning sentimental relationship does not follow the stereotype of genius and muse. As evidenced by the shots on display, some in the past mistakenly attributed to Man Ray but made by Miller, both in the famous portraits and in the decompositions, one above all The Neck of 1930, the look of both is creative oxygen, study on the plastic sinuosity of the body and photographic techniques (such as solarization) then pioneering.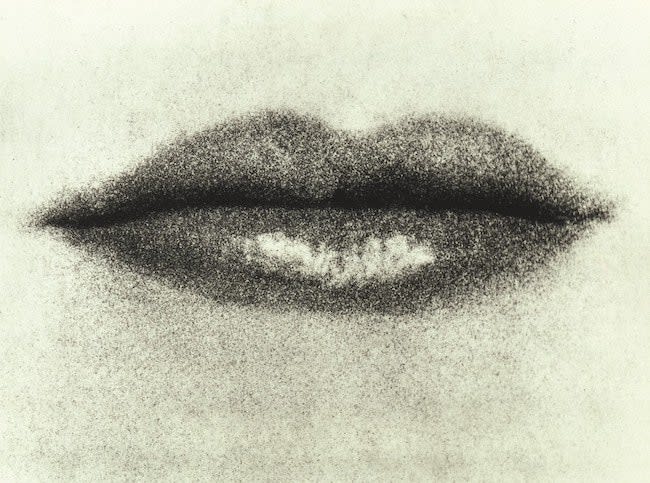 Man Ray - Lee Miller's Lips, 1931 (1978)
Collezione privata, Courtesy Fondazione Marconi, Milano © Man Ray 2015 Trust / ADAGP - SIAE - 2022
The exhibition also recounts the period after the relationship with Man Ray, when Miller in 1932 returns to New York and opens his own successful photographic studio, a period in which Man Ray, blinded by anger at the separation from Lee, in an attempt to erase his memory, in 1933 he replaced the eye on the arm of his famous metronome Perpetual Motif with that of his beloved. After a period of estrangement, the two became friends until his death on November 18, 1976.
Lee Miller - Portrait of Space, Al Bulwayeb, Near Siwa, Egypt, 1937
© Lee Miller Archives England 2022. All Rights Reserved. www.leemiller.co.uk Lee Miller
Another chapter is dedicated to Egypt, Lee Miller moved in 1934 after marrying a businessman and turning a net or mosquito net into a famous Portrait of a Space shot that even inspired René Magritte to paint Le baiser. There is also room for the last London parenthesis, when Lee Miller, taking inspiration from his gaze over a lifetime, returns them working for Vogue UK and transforming fashion services into autobiographical memories related to exchanges with Man Ray or Dora Maar, her great friend. When Lee Miller died in 1977, not many people knew that what was kept in his archive, kept secret during the war years, was an immense treasure that contained thousands of negatives. At least until his son, Antony Penrose, lifts the veil over the corpus enclosed in his mother's attic. And the story of Lee Miller takes a breath. Until today.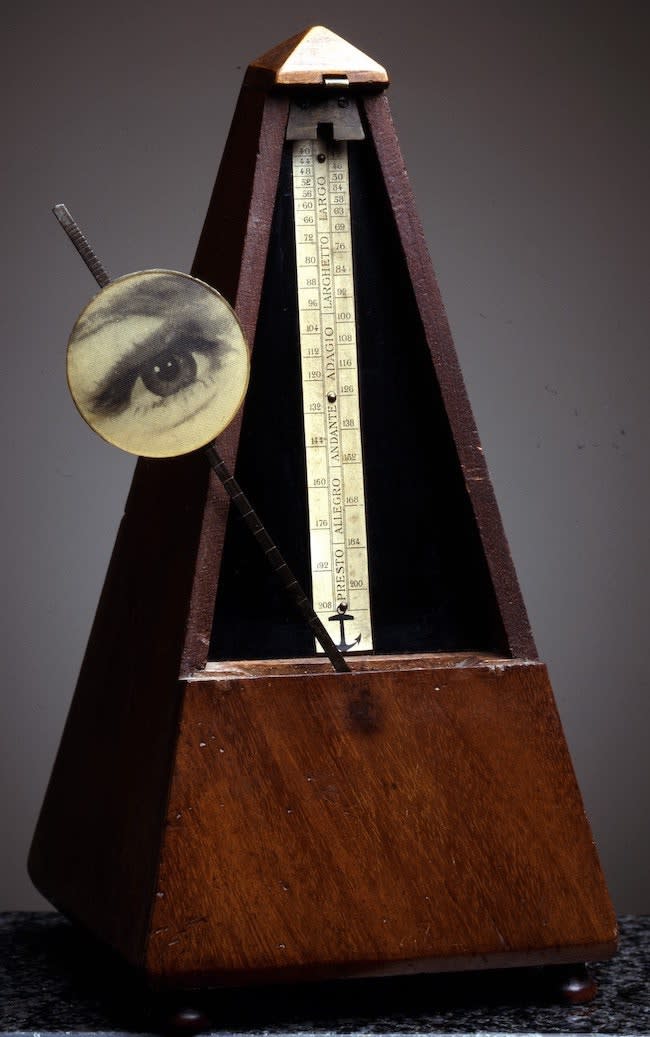 Man Ray - Perpetual Motif, 1923 (1971)
Collezione privata, Courtesy Fondazione Marconi, Milano © Man Ray 2015 Trust / ADAGP - SIAE - 2022