Lee Miller wasn't just pretty, she was beautiful. She was so beautiful that when Condé Nast - the famous American publisher of Vogue and Vanity Fair - rescues her by chance after a car accident on the streets of New York, it takes only a few minutes to offer her a job as a model. Even today, looking at his portraits is like a vertigo. Here it is, instead in front of Man Ray's camera: perfect profile, sublime elegance.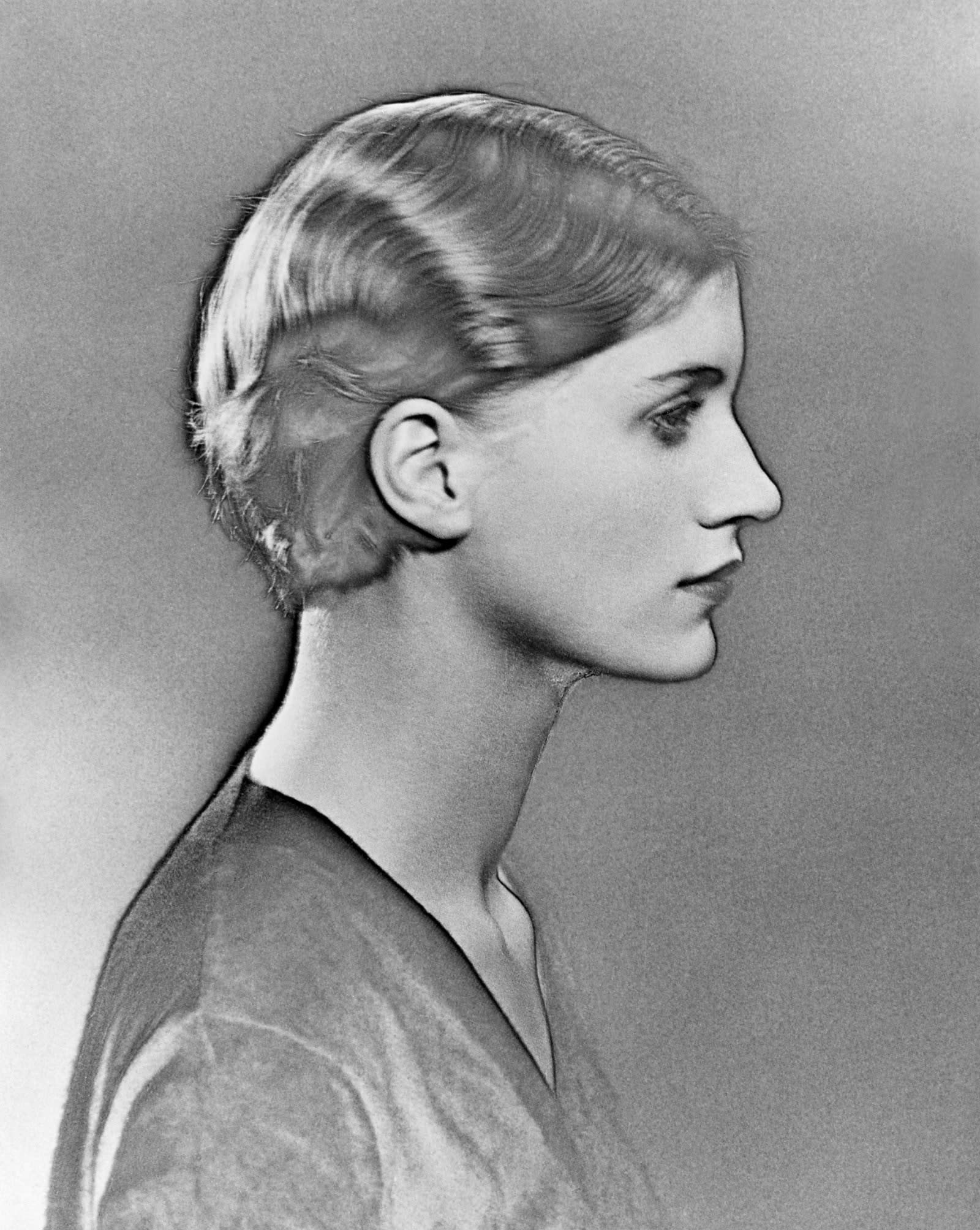 Man Ray, Lee Miller, 1930 circa© Man Ray 2015 Trust / ADAGP - SIAE - 2022 ; images : Telimage, Paris
Now it must be explained how Elisabeth "Lee" Miller, fashion icon of the twenties, star of the covers of Vogue, whose body and face are cannibalized by advertising of the time, becomes first apprentice then friend, partner, lover and sodale of Man Ray, the champion of Surrealism (here it is, in a photo taken by her).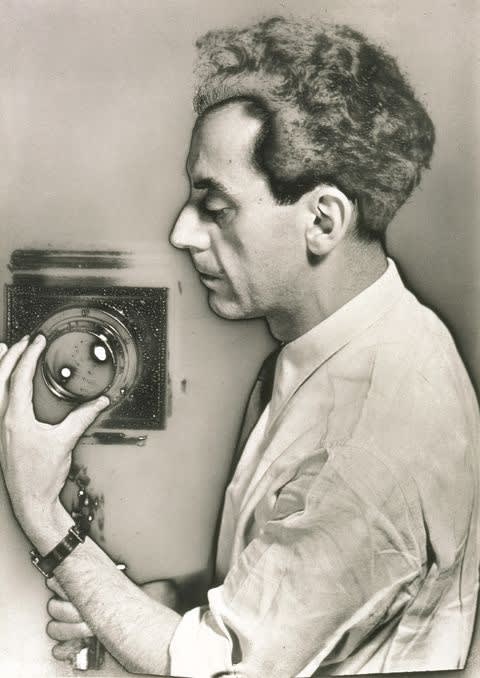 Man Ray, Autoritratto , 1931 (1982) Collezione privata, Courtesy Fondazione Marconi, Milano
© Man Ray 2015 Trust / ADAGP - SIAE - 2022
THE LIASON AMOUREUSE OF A LIFETIME
The relationship between Lee Miller and Man Ray - blossomed in the Paris of '29, lasted three years but then, basically, a lifetime - speaks of an unmissable exhibition that has just opened in Venice, at Palazzo Franchetti, a few steps from the bridge of the Academy. Here, in the richly decorated halls overlooking the Grand Canal, the liaison amoureuse of this extraordinary couple of the twentieth century is told through 140 photographs, some objects of art and videos from the Lee Miller Archivers, Guarded by the photographer's only son, Anthony Penrose, and pieces from the Marconi Foundation. Some of these photos, certainly the one at the beginning of the article, you've seen around who knows how many times: well, Lee Miller - Man Ray. Fashion Love War (until April 10) finally tells us how these shots were born and what was the contribution of Lee Miller to their realization.
Man Ray, Lee Miller, 1930 Collezione privata, Courtesy Fondazione Marconi, Milano Man Ray 2015 Trust / ADAGP - SIAE - 2022;
Too long relegated to mere disciple and then muse of Man Ray, Lee Miller was instead his equal, with equal if not greater, ingenuity. «We tell the story from another perspective» explains Victoria Noel-Johnson, curator of the exhibition, produced by CMS Cultura with ACP Palazzo Franchetti, one of the headlines of this autumn season in Venice. And it is the right perspective to put things right, after years, to rebalance the situation in this couple (first sentimental, then only professional): for too long the fame of Man Ray has obscured the talent of Lee Miller, too long many works made with four hands (like the kiss that you see below) were signed only by him (it used to be so, at the time) and only today, thanks to letters and documents, we can understand that Lee Miller had not only the beauty, but also the talent. Rather than a muse, she was a true pioneer of Surrealism in photography, innovative in experimentation and even fearless in immortalizing uncomfortable subjects.
LEE MILLER HAD LEARNED FROM HER FATHER, WHO WAS PASSIONATE ABOUT PHOTOGRAPHY, THE PASSION FOR THE CAMERA: SHE TOOK IT SINCE SHE WAS A LITTLE GIRL, AND CONTINUES TO DO SO AS A MODEL. HER MOTTO IS "I'D RATHER TAKE A PICTURE THAN BE A PICTURE".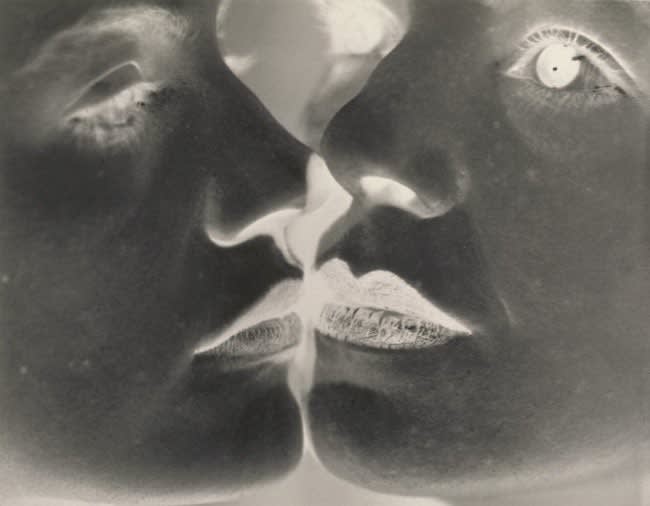 Man Ray, Le baiser (Lee Miller), 1930 (c.1980), Collezione privata, Courtesy Fondazione Marconi, Milano © Man Ray 2015 Trust / ADAGP - SIAE - 2022;
FROM NEW YORK TO PARIS, FROM EUROPE TO EGYPT, ALWAYS UPSTREAM
For this reason, despite his fame, she decides to leave New York and go to Europe: she travels a lot (including Italy) then arrives in Paris where she goes directly to Man Ray's studio - already famous in the Ville Lumiere - to ask to become his assistant. The man is reluctant: highly requested artist, does not want to waste time. Lee Miller insists, Man Ray gives up. They have 17 years difference and in a short time the professional association also becomes loving, for three intense (and unforgettable) years. They are those of the experiments, such as the technique of solarization: the photos of one and the other appear indistinguishable, often the signatures are confused (and almost always to the advantage of Man Ray). All, but truly all, the great intellectuals of the time are portrayed in Man Ray's studio: they are friends of the couple Pablo Picasso, Max Ernst, Salvador Dali, Giorgio de Chirico, Jean Costeau. Lee Miller's body is vivisected in front of the camera: on display in Venice there are many suggestive shots of his body, shoulders, nape. She herself creates "surrealist still lives" with parts of her body (but it must be said that Man Ray, after a fight, imagines his neck slit in a photograph...).
Meanwhile, the relationship goes on for ups and downs: Man Ray is almost obsessed with the physical and creative energy of that woman who seems capable of anything and is not surprised that Hollywood is making a film about the artist for next year, with Kate Winslet in the lead role.
The relationship is interrupted: in 1932 Lee Miller returns home, in New York, where she opens the first photographic studio founded and directed by a woman. Man Ray is devastated, he cites Lee's eyes in many of his works. Does it end like this? Not exactly. An intense life awaits the woman of whom, room after room, we learn to know the multifaceted character: after a few years marries an Egyptian businessman, the wedding lasts a little but gives us, today, wonderful shots of that land.
Images like this, very modern.
Lee Miller, Portrait of Space, Al Bulwayeb, Near Siwa, Egypt 1937, (E1905) © Lee Miller Archives England 2022. All Rights Reserved. www.leemiller.co.uk
A NEW LOVE (AND A SORT OF TRIANGLE)
Lee Miller changed again: she met Roland Penrose, she moved to London, where she worked for the English edition of Vogue, producing original, decidedly surreal services, where fashion and art blend together (and the "Man Ray" style returns). Who knows, maybe everything would have continued like this, but the war comes and Lee Miller, indomitable, turns into a very competent reporter: the rooms of Palazzo Franchetti dedicated to his "visions" (like those of the employees of Vogue with tights made to arrive on purpose from New York walking in a destroyed London) are chilling. Lee Miller immortalizes the allied landing near Saint Malo, enters the concentration camps of Buchenwald and Dachau, her photography seeks a new truth. Among her most famous shots, after the Liberation, the one made in Hitler's bathtub: the banality of evil, could be the caption.
Lee Miller, Fire Masks, 21 Downshire Hill, London, England , 1941 (3840-8)© Lee Miller Archives England 2022. All Rights Reserved.www.leemiller.co.uk
After the war, Lee Miller sees her old Parisian friends, including Man Ray: in the family estate, in the English countryside, the woman lives with Penrose but suffers from depression. Where has all her energy, vitality, desire to do gone (beauty, that, remains until the end)? The post-traumatic stress disorder corrodes the soul of the photographer: today her son Anthony remembers letters that Man Ray - then become a friend of her husband Roland, in fact theirs became «a creative triangle of intelligences» - kept writing them, to encourage her to life. Lee Miller died in 1977, Man Ray a year before: of them remains a sweet, last photograph, taken when they are both now old, that seals with melancholy tenderness the path of the exhibition in Venice. An exhibition, however, full of coincidences and correspondences. It is in fact due to Suzanna, the deceased wife of Anthony Penrose, the casual discovery, in a trunk of the attic of the family estate of over 60 thousand shots between photos, negatives and documents that Lee Miller had wanted to keep but no longer show. And it is thanks to that discovery that this story can now be shown, told and never forgotten.